We know that the idea of driving home in a new Honda Accord is giving you all the feels, but it's important to pump the brakes and get a sense for what you will be paying on your new car over the next five years. Sometimes a customer gets a shock when they discover that on top of the price they're taking a loan out for, there are many other costs to factor in that can greatly influence how affordable your monthly payment is. We don't want you to feel as though you're panicking at the last minute to try and scrape together money for these "extras" which is why we've carefully created this page to assist you.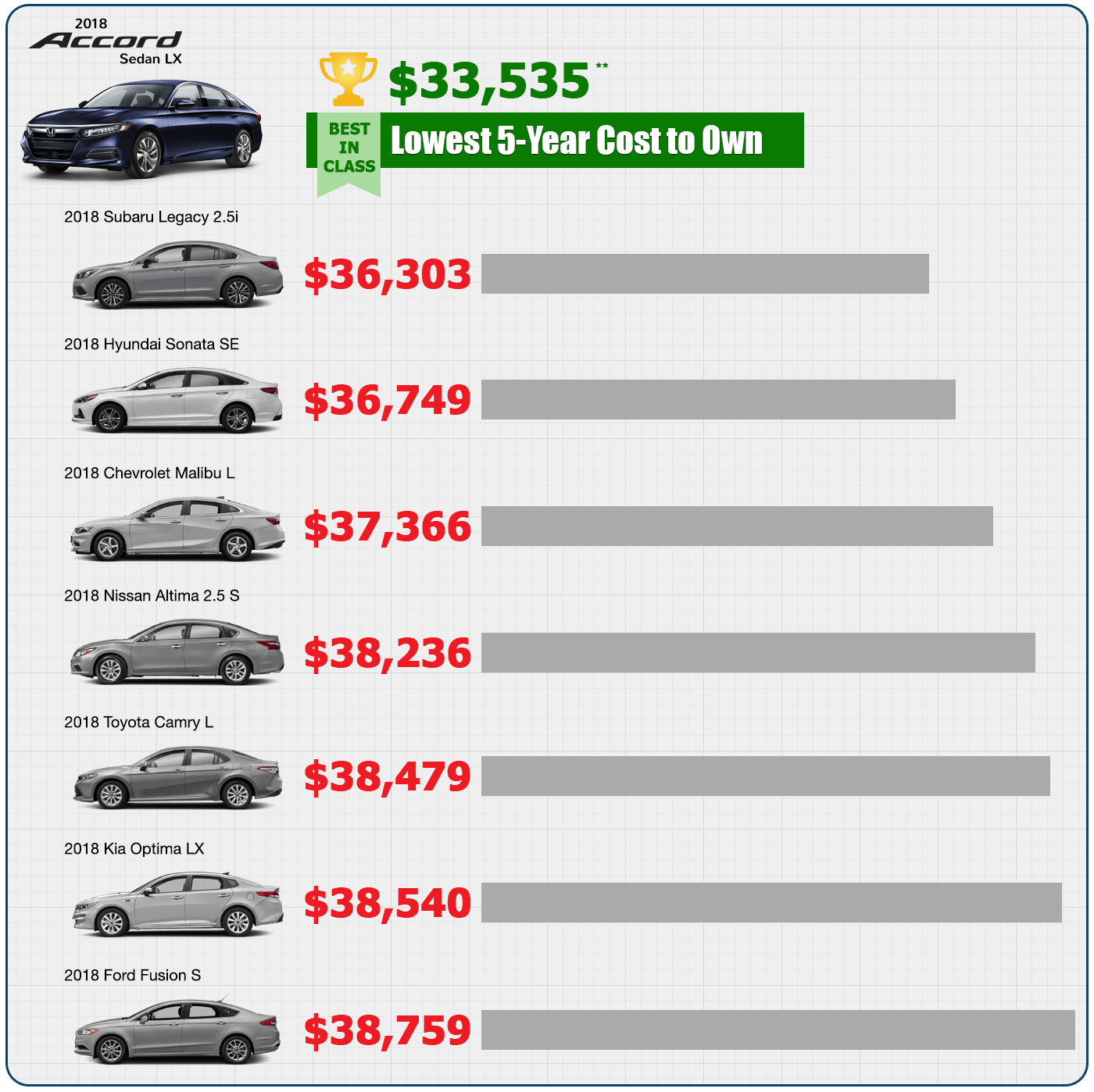 Breaking Down the Ownership Costs of Your New Honda Accord
Before you even set foot on our lot to take a test drive or sign financing papers, you can prepare yourself for what your new Honda Accord will cost you in ownership fees -- many of which our customers tend to forget about. We don't want you to experience and shock when the time comes to get your first tire rotation, brake service, or any number of other services, nor do we want you to worry when you pay your first insurance bill. We've got you covered so you can feel more confident in your purchase or lease, and we've done so by preparing this quick breakdown of potential costs and fees that may arise down the road.
Fuel: Whether you travel a little or a lot, it's important to factor in how much you'll be spending at the pump. Since the Accord is efficient, you know the costs will be relatively low, but that's assuming we don't see a serious spike in gas prices. Being prepared for gas price increases is tough, but if you estimate how much you travel each month, factor in your gas tank size, and roughly guess how much each month will cost, you can prepare yourself for at least a short time.
Repairs & Maintenance: Repairs aren't typically an issue in the first year since most brakes and batteries aren't scheduled to be replaced between 25,000 to 70,000 miles. This depends on your driving habits, how often you make sudden stops, and more. Routine maintenance will help you stay on top of your brakes, battery life, tire tread wear, and the overall vehicle health, helping you avoid sudden expenses. Your oil change, for example, is roughly every 7,500 miles, and a tire rotation is also recommended at this time.
Insurance: This will vary depending on your driving history, how many drivers you are insuring, and what type of coverage you are getting. If you have full coverage on your brand-new Accord, your insurance costs will be higher than that of a car that has been paid off. Once you've paid your loan and are no longer required to have full coverage, your insurance costs will likely drop, further influencing your cost of ownership.
Fees & Interest: When you sign the papers, there are fees, taxes, and more. As your loan or lease matures, it compounds interest and adds to the overall cost of the vehicle. Your Honda Accord won't simply cost you the price quoted on our website, because at the end of the day, that doesn't factor in the costs that incur after you've driven home. Registration, plates, and tax are important to factor in before you sign the papers since this will influence your overall cost and you may wish to further pad your down payment to compensate for this.
Depreciation: An unfortunate downside to buying a new car is the loss of value over the first few years of ownership, but considering the overall longevity of the Accord, you probably won't be looking to trade in for a few years anyway. After the initial depreciation that all cars suffer, Honda Accord models retain their value for the long term.
For more information on these services or fees, and to request assistance from our team at any time, reach out to us or visit our dealership and we will be glad to help you find the answers that lead to your peace of mind.
Find Your Honda Accord