When to Get Honda B1 Service

With the introduction of the Honda Maintenance Minder system, drivers never have to stress about staying current on the maintenance services that their Honda vehicle requires to stay running at peak performance. In the event that your Honda is in need of service or maintenance, this helpful system gives you an easy-to-understand notification that eliminates uncertainty. Curious about what's included in the Honda B1 service code? Germain Honda of Beavercreek is here to help with this handy guide that covers exactly what's included with the Honda B1 service code.
---
Honda B1 Service Explained
In a clear, concise manner – the Honda Maintenance Minder codes deliver important information related to the maintenance services that your Honda vehicle needs. Factoring in both miles driven and time driven, this system determines exactly when these services are required. This code is designated by a single letter followed by a single number. The letter represents what is known as a "Main Item" while the number represents a "Sub Item". For this example, we'll provide a breakdown of what code B1 means.
B — Main Item that tells you that the engine oil needs to be changed.
1 — Sub Item that lets you know that your tires should be rotated. Inspections of various systems and components should also be performed which can vary based on your specific model. See your owner's manual for additional details. Some of the most typical inspections include:
Inspect front and rear brakes
Check pads and discs for wear (thickness), damage, and cracks.
Check calipers for damage, leaks, and tightness of mounting bolts.
Inspect tie-rod ends, steering gearbox, and gearbox boots
Check steering linkage.
Check boots for damage and leaking grease.
Inspect suspension components
Check bolts for tightness.
Check condition of ball joint boots for deterioration and damage.
Inspect driveshaft boots
Check boots for cracks and boot bands for tightness.
Inspect brake hoses and lines including VSA lines
Check master cylinder and VSA modulator-control unit for damage and leakage.
Inspect all fluid levels and condition of fluids
Engine coolant
M/T fluid
CVT fluid
Clutch fluid
Brake fluid
Windshield washer fluid
Inspect exhaust system
Check catalytic converter heat shields, exhaust pipes, and muffler for damage, leaks, and tightness.
Inspect fuel lines and connections
Check for loose connections, cracks, and deterioration; retighten loose connections and replace damaged parts.
---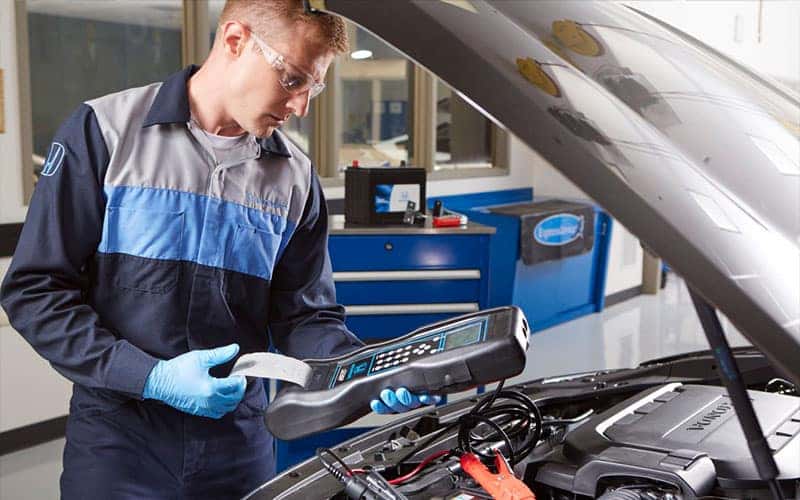 Trust Germain Honda of Beavercreek for Honda B1 Service
Is your vehicle in need of Honda B1 service? You can trust the team at the Germain Honda of Beavercreek Service Department. Our fully modernized service center is equipped with the latest tools, diagnostics, and equipment required to correctly service your vehicle. Better still, you'll experience the peace of mind that comes from knowing that your vehicle will receive care from factory-certified Honda technicians using Genuine Honda parts and components. No matter if it's routine maintenance like B1 service or complex repairs and major service – you can count on the service experts right here at Germain Honda of Beavercreek.