Honda Oil Change Service

One of the most important maintenance procedures for your Honda vehicle is an engine oil change. Fortunately, it is also one of the easiest, cheapest, and quickest. Engine oil is used to lubricate the engine internals, protecting them from friction and heat that can cause catastrophic damage. These oil changes are part of the regular maintenance schedule for your Honda, but Germain Honda of Beavercreek has put together a guide to oil changes so you can better understand the process and recognize possible issues that need more immediate attention.
---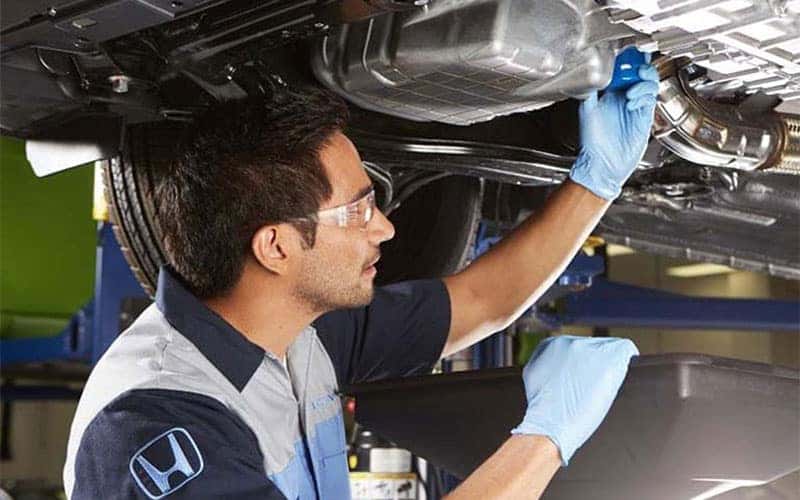 When Is the Right Time to Change My Oil?
While different driving styles and conditions can sometimes make a difference, the oil change schedule set out in your owner's manual is the best guide for determining when to change your oil. It has become even more important to consult your owner's manual in recent years, as advances in technology have given different vehicles different intervals, and there is no longer a universal rule for how often your oil should be changed.
If you are in any way unclear about when your oil should be changed, or you have a reason to need a change before the scheduled service, the friendly and knowledgeable service team at Germain Honda of Beavercreek will be happy to help you with any questions you might have.
---
Current Oil Change Offers
---
Tips for Identifying an Engine Oil-Related Issue
While they don't happen often, there are times when an engine oil issue that isn't routine will occur. Knowing what to look for to identify these issues will help prevent serious damage to your engine.
Oil Spots Beneath Your Vehicle
A few oil spots under your vehicle are generally your first indicator of a leak. While it might not be an urgent problem at first, a small leak around the drain plug, oil pan gasket, or valve cover gasket could turn into a big problem quickly and without warning. It's best to get these issues addressed as soon as you see them.
Oil Warning / Low Oil Pressure Light
An oil or oil pressure light on the dash generally means you have a more serious problem. The best way to prevent serious engine damage when one of these comes on is to shut off the engine and contact the experts at Germain Honda of Beavercreek to get the issue fixed right away.
---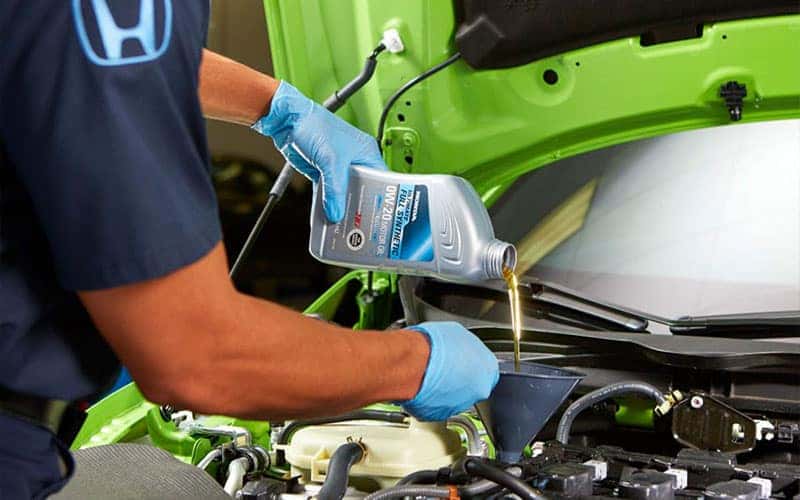 Why Have Your Oil Changed at Germain Honda of Beavercreek?
Engine oil is crucial to keeping your Honda running like new. And in addition to a variety of different oil change intervals, there is also a much wider variety of oils being used on vehicles. With the much more specialized nature of oil changes these days, it's best to entrust them to Honda experts. Germain Honda of Beavercreek has a service team trained to know what your vehicle needs, and we stock all of the manufacturer-recommended fluids and filters for your specific Honda vehicle.
---
Amenities & Services
Honda Express Service
Honda Express Service is here to help you with your busy schedule. No need to make an appointment, for oil changes, tire rotations, light bulb changes, wiper blades, tire repairs, a new battery, engine and cabin air filters, and fluid checks you can just stop in and get right back on the road in a hurry.
Text Scheduling & Appointment Updates
Schedule your service appointment and get ongoing updates on the process right from the palm of your hand with our Text2Drive system.
Online Service Scheduling
Our convenient online scheduler lets you select which services your vehicle needs and pick from a range of appointment times for the one that works best for your schedule. You can even leave messages for your service advisor if need be.
Extended Hours & Saturday Service
Some service departments are only open during the hours when most people are at work. We know how frustrating and difficult this makes it to get your vehicle serviced, and that's why we offer extended hours and stay open on Saturdays.
Service Loaners
Just because your vehicle needs service, that doesn't mean you don't have somewhere you need to be. We have a fleet of loaner vehicles for our service guests to use in these situations. Talk to your service advisor for details and availability.
Complimentary Amenities
Sometimes it's easiest to wait for your vehicle, so we provide a wide range of complimentary amenities to make your wait relaxing and stress free. These include Wi-Fi access, business workstations with a quiet room, flat-screen TVs, comfortable waiting area, beverage & coffee bar, vending machines, newspapers/magazines, and even a children's play area.